HumanamuH – Where humans meet.
HumanamuH predicts which people will enrich your life and lets you meet them.
The HumanamuH website is currently offline. Hopefully it will make a comeback one day.
HumanamuH in 4 steps
Search for people
Talk to them
Rate them
HumanamuH predicts who else is worth meeting
How to find and meet people with HumanamuH
1. Search for people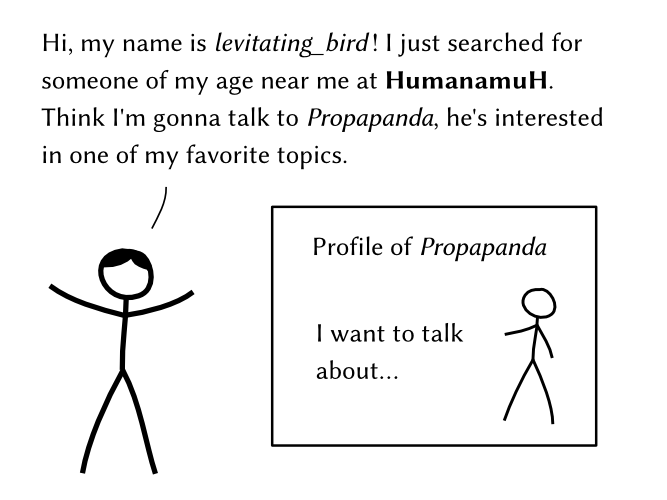 2. Talk to them
3. Rate them
4. Get predictions
How do predictions work?
Your predictions are based on people who like and dislike the same people as you do.
Contrary to "real life", you do not even need to know the people on whom your predictions are based.
This builds a network of predictive power. Even across social and spatial boundaries!
The more people you rate, the more predictions you (and everyone else) will get out of the network.
Think about it: Just by using HumanamuH for yourself, you will automatically allow people to meet each other who would have never met otherwise.
What else to say?
HumanamuH wants to enable you to meet as many worthwhile people as possible. Therefore it is not restricted to any single area of life or topic. If you and someone else go well together, you will find something to do or to talk about. Make friends, find someone for a date or just chat. It is up to you.
You determine who will be able to send you messages. Only want messages from people of your age from your area? No problem.
Terms and a privacy policy that are not scary.
HumanamuH is free.